Bedside Discussions
No not that kind silly, bedside tables!! I don't know about you but I am loving the idea of a cute, vintage style chair as a bedside table. I would say I have pretty eclectic taste when it comes to decorating. I love some modern fun pieces but I am also a sucker for antiques. The idea of a chair as a bedside table is not only cost effective but also eclectic and fun. I pulled a few I've found over the internet that seemed so feminine.
I love this idea from
Citified
.. Look at the stack of books beside it...makes me want to stay in bed all day!!
This "table" from Real Simple is so cute.
I found this fun idea that would be perfect for a guest bedroom.
So let's pick out a chair and accessorize!!
I saw these chairs about 4 years ago from Pottery Barn and fell in love. About a year ago I spotted them on
Home Decorators
for much less. The rustic vintage feel is divine.
And of course you need lighting. I would go with a wall sconce to save space on the small seat of the chair like these two choices from Pottery Barn and Restoration Hardware.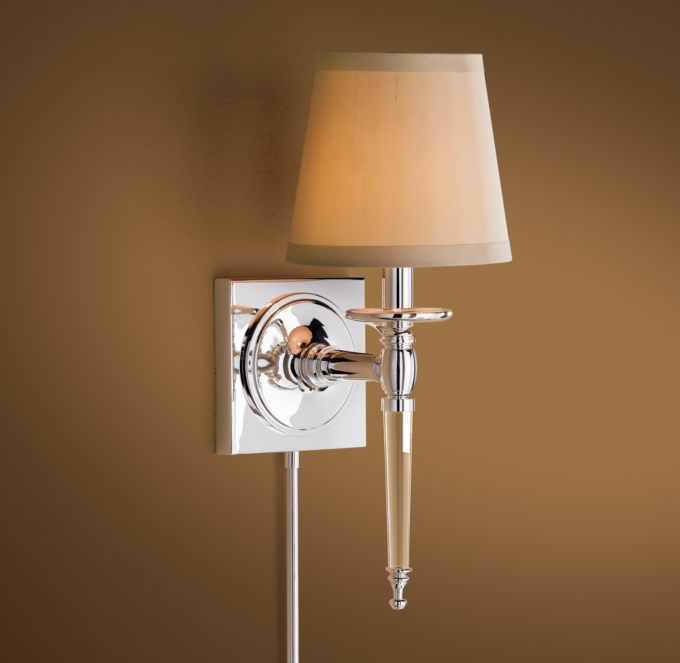 How about a cute alarm clock, I found this one on Etsy.
Last but certainly not least, you will need something to hold those sweet nothings. You know, your chap stick, the earrings you forgot to take off before bed or any little memento you like to keep close. I personally enjoy milk glass for this. Check these out I found surfing the web. The vases would be nice as well to hold a single rose your sweetie brings home.
So grab a few books or magazines you've been reading and a small picture frame and you're all set!